As we have reported in previous BET Bulletins and project updates, the majority of the ash trees on BET's reserves are showing signs of ash dieback disease. There is no treatment for the disease and in the coming years these trees will, almost certainly, die and collapse.
At the end of last year we obtained quotes for felling diseased trees which could fall and strike a road or public footpath. At this time, the consensus was that approximately 300 trees would have to be felled. Our chosen contractor successfully felled an initial number of trees in March with the majority to be felled this autumn.
Unfortunately in the meantime there have been a number of serious injuries and fatalities involving the manual felling of diseased ash trees. This has lead to a change in the recommendations for felling affected trees and so now, whenever possible, specialist mechanised equipment should be used to fell diseased trees safely. Our chosen contractor has therefore had to bring in one of the few local companies with the appropriate equipment and experience to fell the most dangerous trees adjacent to roads and houses.
In July 2021, with numbers of ash trees affected by the disease increasing rapidly, we commissioned an independent safety assessment on all trees bordering roads, houses and footpaths. This survey recommended that we would now have to fell approximately 800 trees to ensure the future safety of visitors to our nature reserves.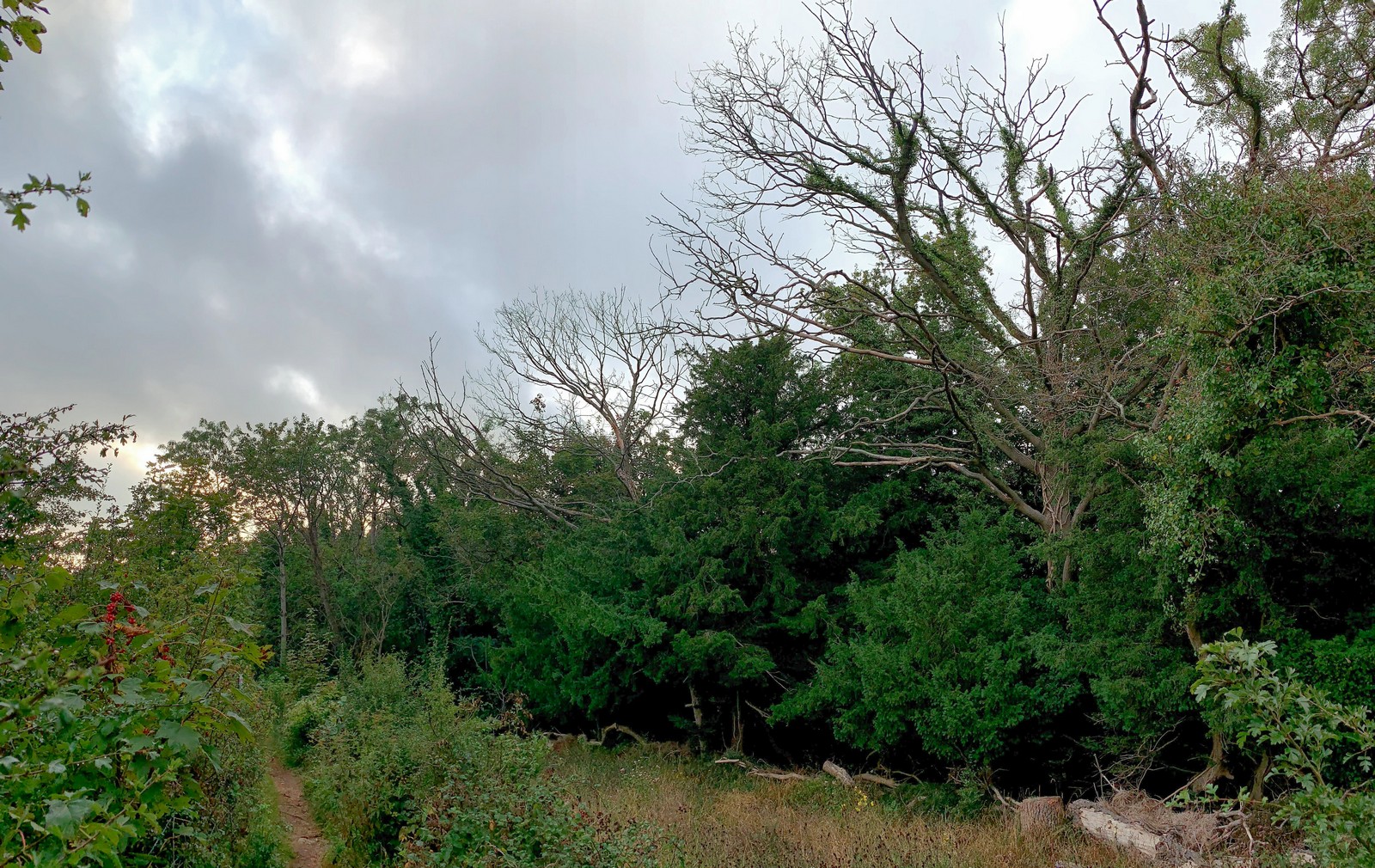 Badgers Wood footpath 14-9-21
The felling of the roadside trees and a proportion of the path-side trees is now planned to start on September 20th. Heavy equipment will be used on the road to fell, extract and cut up the trees. Sections of Cheston Combe and Lower Church Town will need to be closed between 9:00 and 15:30, approximately, on weekdays for two weeks. We apologise for any inconvenience caused by closing the road and some paths.
Having seen examples of previous work by the contractors, we are confident that they will do what they can to minimise the impact of this extensive felling on the reserves. We have also taken steps to obtain the necessary Forestry Commission licence and to mitigate the risk to protected species.
It is with deep regret that we have to carry out this extensive felling, but BET has a legal responsibility to ensure, as best we can, the safety of our neighbours, visitors and road users from the serious effects of rapidly decaying trees on our nature reserves. If we ignore professional advice and there was an accident, BET could be deemed negligent.
We are very grateful to all members who donated to our fund raising appeal, to the Tarmac Landfill Communities Fund and for an extremely generous donation from Ken Edis and Backwell Logs, whose sales in the Bristol area support the Backwell Woods Restoration Project.
BET Trustees
Clarification of tree markings
The felling is being phased over a number of years and the initial phase is to make the road safe and fell those marked with blue spots. Those with just an orange spot have been identified as likely to need to be felled in the next three years. We will monitor the progress of the disease and tackle them if and when the crown has declined by more than 50%. Trees close to paths which have reached this stage are being marked with green spots. Diseased trees away from public footpaths will be left to decay without felling.
When we had a detailed survey of the trees conducted by the independent arboriculturist earlier in the year, a small number of trees other than ash were identified with significant disease or decay and needing to be felled. These included six sycamore and two small-leaved lime, which have been marked with blue spots. As these are at risk of falling onto the road we are having them felled whilst the road is closed.
There are a number of ash trees on the road side of BET's boundary which are the responsibility of North Somerset Council, although some were marked with orange spots in error during a survey last year. We contacted NSC to suggest they tackle these trees during this road closure that we have to pay them for, without success.