Hazel Dormice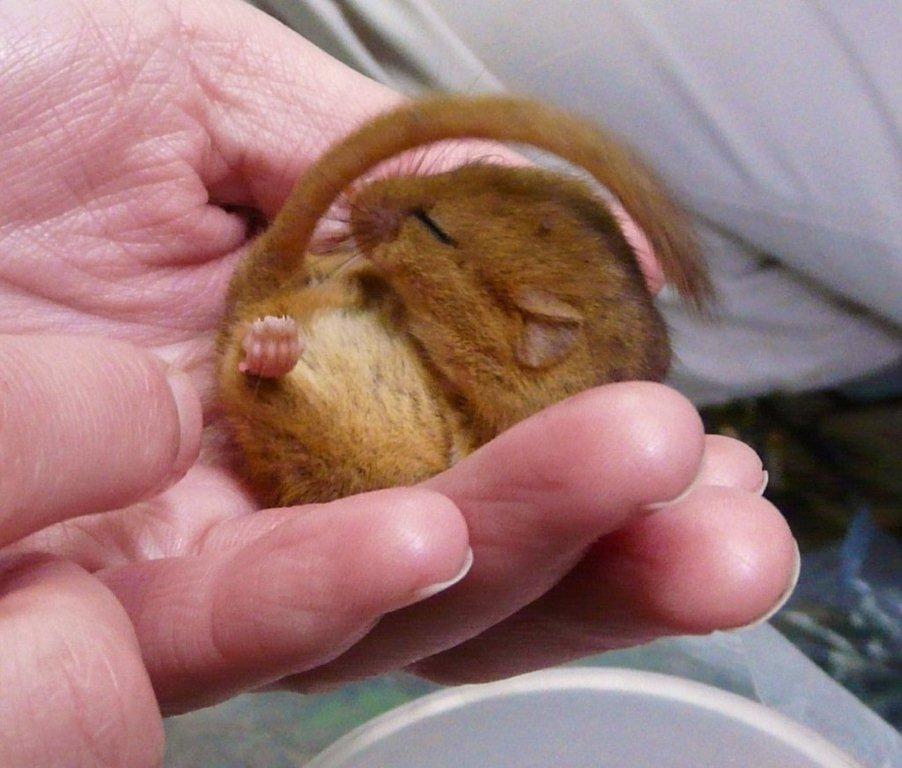 If there's one British mammal that truly sums up the word 'cute' it has to be the Hazel Dormouse. These elusive, beautiful creatures are rarely seen however, as they are very secretive, nocturnal and spend most of their lives high up in the tree canopy. Their numbers have declined significantly over the last 100 years, mainly due to the decline in woodland coppicing, but now have full legal protection under both UK and European law.

BET's nature reserves are home to large numbers of dormice and our volunteers have worked very hard over the past years to make both of our reserves even more dormouse friendly.
The unusually the high numbers of dormice on BET's reserves led to us being entered into the UK National Dormouse Monitoring Programme which is all very exciting.
Under the supervision of an English Nature licenced dormouse handler, we check their nests once a month between spring and autumn and try very hard (usually without much success!) not to be totally enchanted by these beautiful, gentle creatures.
In 2016 we had our best ever year with a total thirty-two, including recaptures. Here is Gill Brown's summary report: "The dormouse season started in April with a torpid female which was snoring audibly, something I had never heard before. It was an encouraging start to the year because in 2015, numbers were worryingly low. We found eight in May, which is the largest number we have ever recorded that early, and eight in June (probably not all the same animals but it is hard to tell as I am not licensed to mark them).
"In July we found four, including a female that was clearly pregnant. We hoped to see the babies in August but for some reason we didn't find any dormice at all that month. In September we found four adults, including a female with seven young, which is a very big litter; they usually have four or five."
Our Dormice are Winners!
Former filmmaker Nick Upton, from Kingsdown near Box, was recognised by the 2014 British Wildlife Photography Awards for his collection of photographs of BET's dormice.
"Taking the photos was a lot of fun and a great privilege as Hazel dormice are really endearing little creatures with huge eyes and fluffy tails who really live up to their sleepy reputation, and I'd never seem them before - but that's true of almost everyone in the UK. They're very shy and only come out of their woodland nests at night, and they're far less common than they used to be.
"To get the shots, I followed Gill Brown and Ian Chambers of Backwell Environment Trust on some of the regular Dormouse surveys they do in the coppiced woodland, checking special nestboxes with entrance holes up against trees, and then snapping away when they found some dozing Dormice inside. Some didn't even wake up as they were handled, but my favourite shot was of two beady-eyed youngsters peering up at me before they were weighed and put back in their nest box".